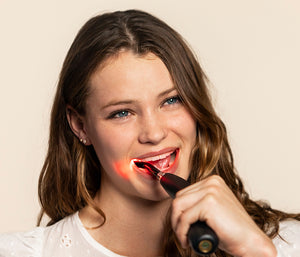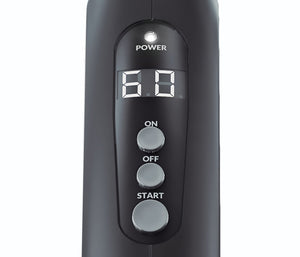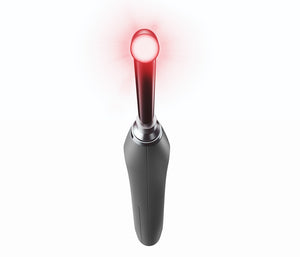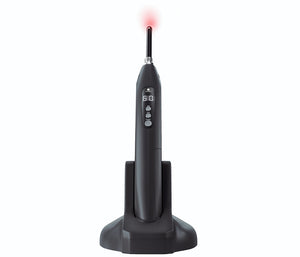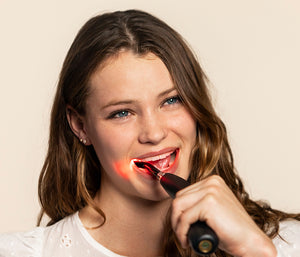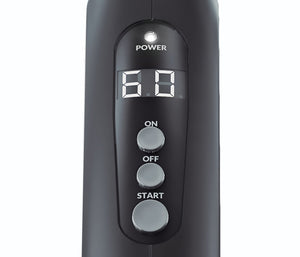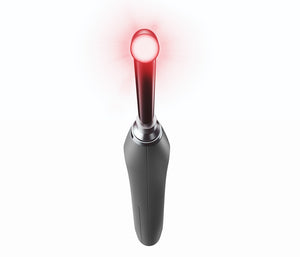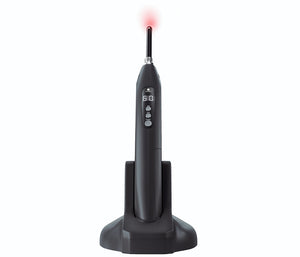 Mouth Sore Treatment Device
The Luminance RED Mouth Treatment Device is a breakthrough, handheld class II medical device designed to help you manage sores and ulcers inside the mouth. Shine concentrated wavelengths of pain-free, medically-optimized light directly onto sores and ulcers or on the area where they often develop

The Luminance RED delivers similar light wavelengths that have been shown in scientific research to reduce pain and help manage outbreaks. Learn more here.
Don't be deceived by cheap imitations found on Amazon and their enticingly low prices. They simply don't deliver the power needed for effective healing. Tested in scientific studies and used by renowned medical institutions across the country, rest assured the Luminance RED provides superior clinical performance.
6-month, 100% money-back guarantee.

Pay only $75 every 2 weeks with 4 interest-free payments

FSA and HSA eligible
See Results from our

Clinical Trial
Free, Descreet 2-Day Shipping
Money-Back Guarantee
Buy Now, Pay Later
Luminance RED Mouth Treatment Device
Fiber Optic Light Guide - Tip
Charging Base
Power Cord
User Manual
For the best phototherapy results, we recommend using the device 2-3 times per day, with at least 4 hours between treatments.
I bit my lip last Thursday. Usually when I get cuts on my mouth, they immediately become canker sores. That night I started the light therapy.

It is now almost fully healed. I can't believe it but it happened. I want to quit my job and come work for you guys.
This 100% works!! My daughter gets horrible mouth sores and they're now better in a fraction of the time. Boyfriend used it on a lip sore and it stopped it dead in its tracks! Would buy 100 times over!!
This thing really works! I received the Luminance RED device 2 days ago. I had 6 formed sores in my mouth. 3 of them on my tongue, 1 on my lip, and 2 on my gums. I had been using a numbing topical called Kanka for relief, which works for a short time, and basically numbs your whole mouth. I had been doing that for about 2-3 days.

As soon as I got the Luminance, I used it immediately and all I can say is wow! It did not numb them right away, but about 15 minutes later, they were easily 80% less painful and I have not used or needed the Kanka since then. I was coming home from my daughter's house yesterday afternoon when all of a sudden I felt that tingly sensation of another sore on my bottom lip. As soon as I got home, I treated it with the Luminance RED device and never really felt it again.

When I got up this morning, I could see it was still there, but couldn't feel it, so I treated it one more time and it is like it never happened. This thing is worth every penny!!! Highly recommend to anyone who is suffering from mouth sores or fever blisters. You won't be disappointed.
My son has struggled with extremely painful mouth sores - usually getting anywhere from 2-5 in his mouth at a time. We've tried MANY supplements, mouth washes, topical treatments, etc. The Luminance RED is dramatically helping and his pain is reduced significantly. We will continue treating the Luminance RED and are grateful to find relief!
See More Reviews
Medically-Optimized Wavelengths & High Power
The Luminance RED delivers medically optimized light wavelengths at high power, for optimal photomedicine results. Light with similar frequencies has been shown in scientific research to reduce pain and help manage outbreaks.
Learn More
For those of us that suffer from painful mouth sores, this is life-changing. I know that sounds dramatic, but it really does work, especially if you start using it the minute you feel one starting. My recent mouth sore was already fully formed by the time I got the device, but I imagine you would get the same result if you catch those quickly as well. It's expensive, but so is going to the dentist to get laser treatments, and not all dentists offer the service.
How Does It Work?
Photomedicine, or medically-optimized light treatments, have been tested in hundreds of peer-reviewed clinical studies, with overwhelmingly positive results, with little to no observed side effects. Learn more about the emerging research for sores and outbreaks.
Learn More
The Luminance RED light 100% WORKS for mouth sores. I wanted to use it several times before reviewing it and I also wanted to make sure I used it on a sore I knew would be a bad one without the use of the light.
I've had it for over a month now and have used it several times on myself and my son. First, it immediately takes away the pain like magic. Works for other cuts in the mouth too. Second, it helps with the healing process exponentially. On day 1, my son told me had gotten a mouth sore and it was painful. Used the light twice. Pain immediately gone.
Second day, it was painful again in the morning so I hit it twice with the light. Pain gone and by the end of the day, the redness around the sore was gone. Day 3 it was practically gone and caused no pain and didn't need to use the light. This was a mouth sore that surely would have lasted 5-6 days and would have been super painful otherwise.
WORTH EVERY PENNY!
Perfect For Easy & Pain-Free Home Use
The Luminance RED is quick and easy to use in the privacy of your home. Treatments are painless and only take a few minutes. The device is sleek, ergonomic, and easily stored for discreet usage.
OMG I love this product. I have suffered from mouth ulcers my whole life. I've never been able to find anything that works like this product. I have been ulcer-free for the last 3 days after using this to treat 2 full-blown ulcers and 3 that were just beginning! I am so amazed how well it has worked and how easy it is to use. I was very skeptical and only made the purchase because of your money-back guarantee. If not for that, I wouldn't have made the purchase. LOVE IT!
Can My Kids Use This Too?
Many peer-reviewed clinical studies have shown light therapy to be safe and efficacious. However, if you have any concerns about using it with children, we recommend consulting with a healthcare professional. Please also note, all treatments with children should be done under adult supervision.
My little girl got a mouth sore recently and it worked really well to clear that up, too. I was nervous that this device was a bit of a gimmick, but now I'm convinced it works really well.
Optimize Your Luminance RED
Whether it's a protective travel case or an extra fiber optic tip, take a look at the accessories for your Luminance RED.
Learn More
Our Skincare Devices are Supported by Clinical Science
We've invested in multiple clinical studies to quantify the impact of the Luminance RED family of devices.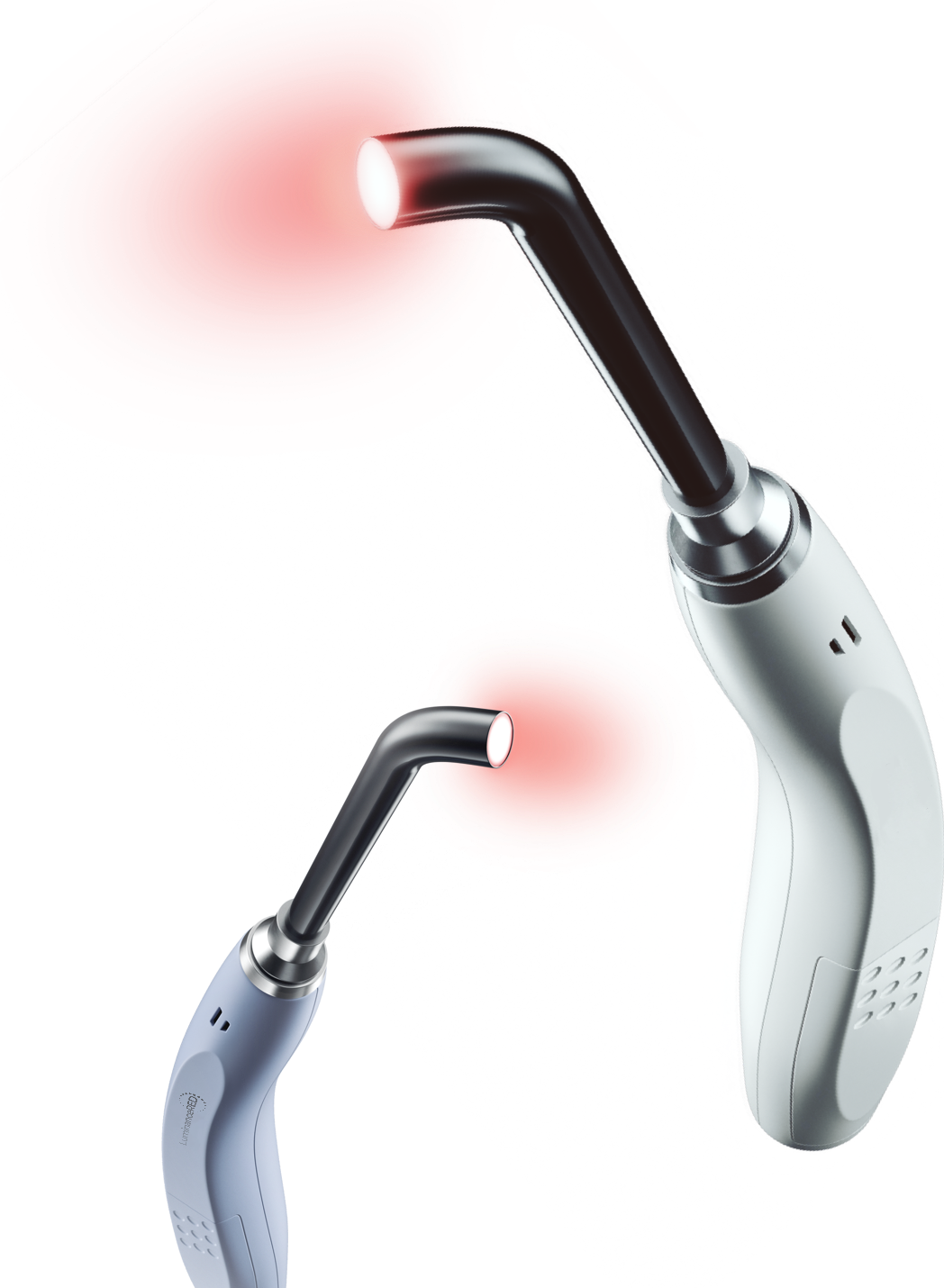 Yes, we offer a 6-month money-back guarantee. We stand by the effectiveness of Luminance RED and aim for your complete satisfaction.
Many users experience an immediate reduction of pain and significant improvements within 24-48 hours. The device is engineered for rapid and effective relief, supported by clinical studies.
Absolutely, the device is designed to treat active sores and also to prevent future occurrences when used consistently.
Luminance RED distinguishes itself with clinical validation, specific wavelengths, and power optimized for mouth sore treatment. It's a medically-proven device you can trust. Not only is it trusted by doctors, but it's also endorsed by leading medical institutions. "Patients improved significantly during the study," attests Dr. Leo Wang, MD, PhD, a leading dermatologist. Furthermore, esteemed hospitals like St. Jude and Texas Children's also place their trust in our device.
Yes, Luminance RED is HSA/FSA eligible, offering a cost-effective, clinically-backed solution for mouth sore treatment. Click here to learn more.
Luminance RED provides a natural, chemical and drug-free alternative that many find more effective and quicker than traditional oral medications. It targets the root cause, not just the symptoms.
The device is lightweight and designed for convenience, whether you're at home or traveling. It features a straightforward interface and easy-to-follow instructions.
Luminance RED is engineered to be a safe, natural treatment with zero reported side effects, offering a worry-free alternative to chemical-based treatments.
Hold the device approximately 0.5 inches from the treatment area for best results, ensuring the medically-optimized wavelengths are effectively delivered.
For preventative measures, use the device 2-3 times per week on areas prone to outbreaks.
Given the long-term benefits and savings on recurring purchases of oral medications, many users find Luminance RED to be a cost-effective solution.
While generally considered safe, consult your healthcare provider if you're pregnant to ensure this device is appropriate for you.
Yes, many users successfully combine Luminance RED with oral medications for enhanced results. It's a versatile addition to your treatment regimen. Always consult your healthcare provider before combining treatments.
While designed for managing mouth sores, it's not specifically intended for other oral conditions. Consult your healthcare provider for targeted treatment options.