The Best Ways to Cover Up A Cold Sore Fast
When a cold sore develops around your mouth, it feels like the world may as well end. That unsightly, painful blister seems to turn heads every time you venture beyond your home.
While it's best to allow cold sores to heal naturally, you'll probably need to leave the house over the next week or two. In some situations, covering the blister can be the right call.
One effective option for covering a cold sore is using a bit of makeup. Let's learn how to disguise a cold sore with makeup, along with a few ways to expedite the healing process.
Covering a Cold Sore: At What Stage Should You Cover?
You may be tempted to cover your cold sore the instant it becomes visible, but that isn't the best choice. In its earliest stage, a cold sore is open and vulnerable. Applying makeup to a fresh cold sore lesion may slow the healing process or trigger an infection.
When a fluid-filled cold sore blister initially bursts, it's very contagious and spreads easily to other people and even other areas of the body. To avoid contamination — and to keep the oozing sore from thwarting your cover-up techniques — wait until your cold sore has scabbed over before applying makeup.
Use These Tools for Covering a Cold Sore
A magician can't perform magic without the right tools. The following three products can make your cold sore disappear — or at least become less noticeable.
Pigmented Liquid Lipstick
If your cold sore is on your lip, you'll need a pigmented liquid lipstick capable of full-coverage and all-day wear. Choose a matte formula if you can — they last for hours and look more natural.
Pigmented Lip Liner
If your cold sore is just beyond your lips, use a pigmented lip liner. Carefully apply it just beyond the edge of your lips, far enough to cover the ulcer. Not only will you conceal the lesion, you'll create the illusion of fuller lips.
Disposable Applicators
Disposable applicators make it easy to apply makeup without contaminating other areas of your skin (or your makeup!). Cotton swabs and Q-Tips make easy and accessible disposable applicators. Clean, dry fingers can also serve as applicators, as long as you wash them immediately after applying makeup.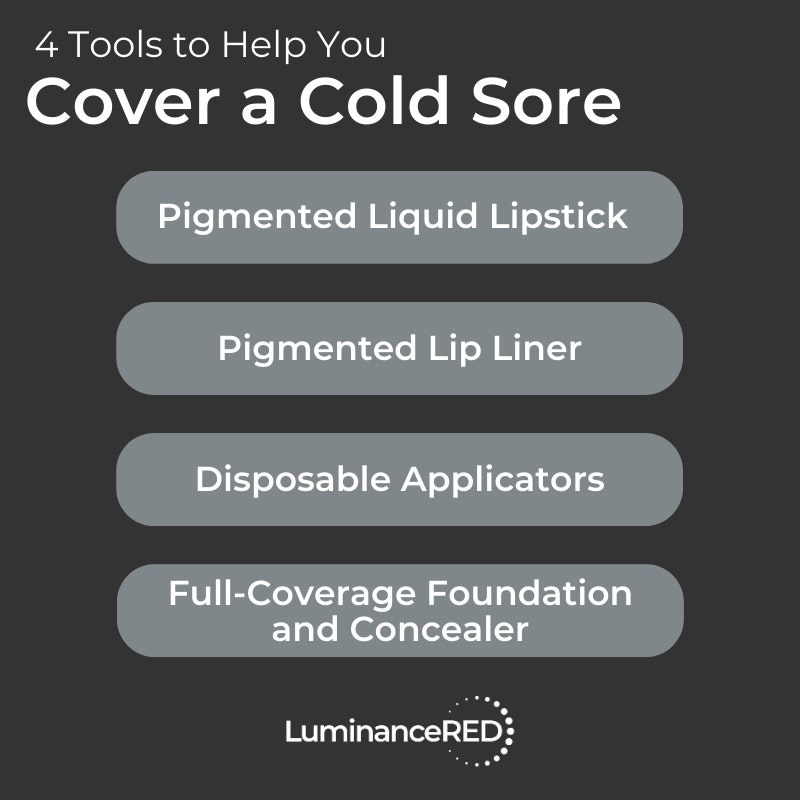 Full-Coverage Foundation and Concealer
Full-coverage foundations and concealers can cover cold sores that form on the skin beyond the edge of the lips. Foundation creates the base of your look, and concealer keeps your cold sore covered. 
It's important to select full-coverage products with staying power. These are more likely to remain on your skin through sweat, tears, and unexpected rain. The last thing you want is for your cold sore to reappear just before an afternoon meeting or halfway through a date.
How to Choose the Right Concealer for Your Skin Type
Let's continue to explore concealer.
When it comes to covering a cold sore, concealer shoulders the biggest burden. Take your time and choose the right concealer for your skin type. The following tips will lead you in the right direction.
Match Your Skin Tone
Selecting the right shade of concealer is trickier than you might think. With so many colors available, it's easy to select a shade too light or dark for your skin, which won't conceal your cold sore blister as well. In fact, it could call attention to the spot instead.
Choose a concealer the same hue as your skin. Light-to-medium skin tones likely need a yellow-based concealer, while medium-to-dark skin tones need an orange base.
Effectively covering a cold sore also requires a good spot concealer. Choose one that's slightly lighter than your skin tone for the best effect.
Find the Right Consistency
The most popular concealers come in liquid, balm, stick, and cream forms. In general, each type of concealer works best for certain conditions:
Liquid concealer is versatile for every skin type and condition.
Balm concealer is thick and sticks to the skin all day.
Cream concealer is thick enough to cover breakouts but may irritate sensitive skin.
Stick concealer is semisolid and heavy, so it may irritate oily skin.
Use a bit of trial-and-error to can find the best concealer consistency for you.
Steps for Covering a Cold Sore With Foundation and Concealer
Once you have the right products for your skin type, it's time to start covering your cold sore. Follow these steps for optimal results:
Wash Your Face
Even when you aren't covering a cold sore, you should always apply makeup to a fresh, clean face. A thorough cleansing removes all traces of bacteria, dirt, and debris.
Apply Cold Sore Medication
Before covering a cold sore with makeup, apply any medication you're using. 
There are many different over-the-counter medications available that can actively treat cold sores. Each medication offers its own perks: numbing pain, hydrating skin, soothing irritation, etc. Select the medication that best meets your needs so you can stay comfortable all day long.
Not sure which over-the-counter medication is best for you? Your local pharmacist can help you determine which product is appropriate to treat your cold sore at its current stage.
Apply Foundation
Using a clean makeup brush or sponge, apply a layer of full-coverage foundation to your face. However, skip applying makeup directly to the blister for now.
Your foundation should appear light and natural-looking, with enough coverage to support the addition of concealer in the next step.
Apply Concealer
Now it's time to cover the cold sore.
Use a disposable applicator (like a Q-tip or cotton swab, as mentioned earlier) to apply concealer over your cold sore. Apply lightly and in layers until your cold sore blends with the rest of your skin.
Be sure to avoid touching the applicator to your cold sore and then to another part of your face or to your makeup. Use a fresh cotton swab each time you need more makeup.
Powder the Cold Sore
Using a different disposable applicator, gently brush a loose powder over your cold sore. Powder sets your makeup in place and removes any shine or redness your concealer and foundation missed.
Once the powder effectively covers the blister, use a makeup brush to apply it to the rest of your face. Again, take care not to contaminate your powder container with the applicator that touched your cold sore.
Finish Your Look
Complete your look by applying your favorite makeup products — lipstick, mascara, eyeliner, blush, and any others you enjoy. You'll feel like the best version of yourself and may even forget your cold sore is there at all!
Covering a Cold Sore Without Makeup
Makeup can be a good option if you're giving a presentation, attending an important event, or know you'll have your picture taken. That said, covering a cold sore with products that promote healing is still the best way to go when possible.
Since covering a cold sore with makeup isn't always conducive to effective healing, you may prefer to focus more on healing than on hiding.
Here are a few options:
If you need something that will both heal and cover, it may be time to try over-the-counter cold sore patches.
Cold Sore Patches
A cold sore patch is another great treatment option. A cold sore patch both medicates your cold sore and covers it with a protective barrier. It may not conceal your cold sore as well as makeup, but it does offer some camouflage.
Here are a few types of over-the-counter cold sore patches available:
If you're not sure which patch to choose, talk to your local pharmacist or consult your doctor. You can also read reviews to see how the patches have worked for others.
Fortunately, cold sore patches are relatively inexpensive, so you can experiment with multiple types to find what works best for you.
Other Tips for Covering Cold Sores
Consider these other tips if you want to camouflage your cold sore like a pro.
Distract attention away from your cold sore with dramatic makeup around your eyes.
Apply a setting spray to ensure your makeup doesn't wear away as the day continues.
Dab concealer onto your cold sore in layers and reapply throughout the day (with a clean applicator!) if needed.
If all else fails, you can talk to your doctor about prescription antiviral medications, which can help cold sores heal faster and occur less frequently.
As you wait for your prescription to be filled, you can cover your cold sore by wearing a face mask. This is a great option if you just need to run to the pharmacy to pick up some cold sore patches or aloe and only need temporary coverage. In our post-pandemic world, no one will bat an eye!
Just be sure to discard disposable masks after wearing them once with a cold sore, or wash reusable masks after one wear so you don't spread the virus to other areas of your mouth.
Covering a Cold Sore: Final Thoughts
No matter how you decide to go about covering a cold sore, remember that you don't have to cover it at all. This is a personal choice made for your own comfort. Cold sores are very common, and most people won't judge you for them.
If you're prone to cold sores, you can fight the symptoms with a natural treatment like the Luminance RED. This FDA-registered device administers safe, highly effective wavelengths of light that can cut healing time nearly in half and immediately reduce your cold sore discomfort.