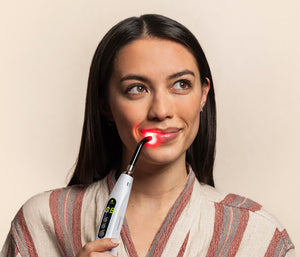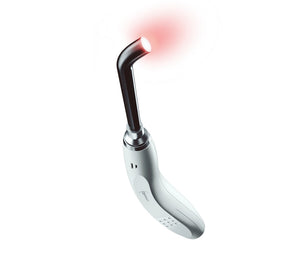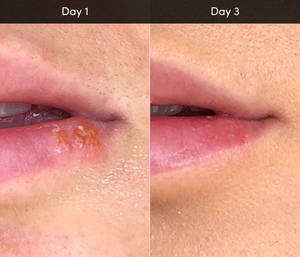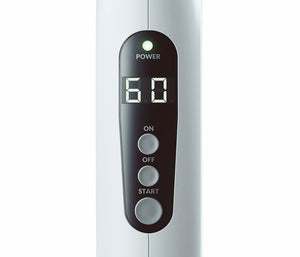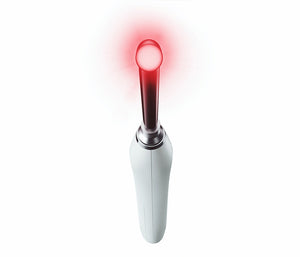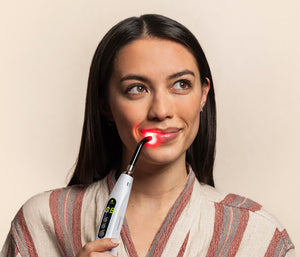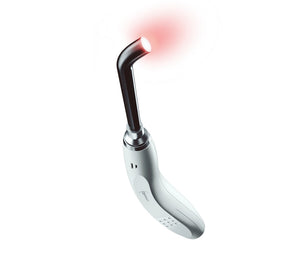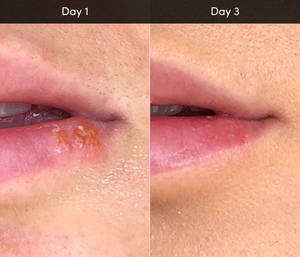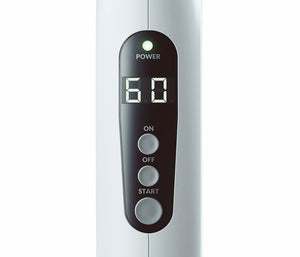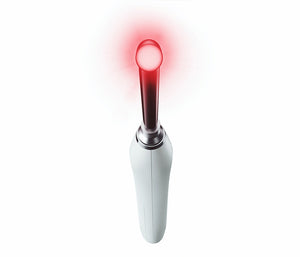 Lip Sore Treatment Device
The Luminance RED - Lip Treatment Device is a breakthrough, handheld class II medical device designed to help you manage oral sores on the lips and around the mouth. Shine concentrated wavelengths of pain-free, medically-optimized light directly onto sores or on the area where sores often develop.
The Luminance RED delivers similar light wavelengths that have been shown in scientific research to reduce pain and help manage outbreaks. Learn more here.
Don't be deceived by cheap imitations found on Amazon and their enticingly low prices. They simply don't deliver the power needed for effective healing. Tested in scientific studies and used by renowned medical institutions across the country, rest assured the Luminance RED provides superior clinical performance.
6-month, 100% money-back guarantee
FSA and HSA eligible
Delivered discreetly with free shipping
This thing is an answer to prayer. I scoured the internet and ran into this. I did treatments 2 times a day for the past 4 days. My lip sore is now completely gone. I am completely floored. And I couldn't be happier. This is a miracle of modern science. Try this product with confidence. You have nothing to lose.
Within 2 days of using the product, my sore was so much better. I can not thank you enough for this product - it saved my wedding day for sure! I would highly recommend it to anyone because this product works! Thank you so much!
I have tried many ointments and medications and recently had my worst outbreak. I was so excited to try my Luminance RED and used it three times per day for three days. Now my skin is back to normal! I almost gave up hope, but I'm so happy that I can go out in public again. Thank you so much!
I purchased this product because I had two terrible lip sores around my mouth. I was in terrible pain and quite desperate. The first day of treatment I had pain relief. I'm so grateful.
Read More Reviews
Perfect For Easy & Pain-Free Home Use
The Luminance RED is quick and easy to use in the privacy of your home. Treatments are painless and only take a few minutes. The device is sleek, ergonomic, and easily stored for discreet usage.
I haven't had a full blown cold sore since starting use of Luminance 9 months ago. My husband used it once at the early onset of symptoms 9 months ago and hasn't had to use it since. Seems like a good preventative in addition to treating the actual sore. Very happy with it!!
Medically-Optimized Wavelengths With Clinical-Grade Power
The Luminance RED delivers medically optimized light wavelengths at high power, for optimal photomedicine results. Light with similar frequencies has been shown in scientific research to reduce pain and help manage outbreaks.
Learn More
Having lip sores for the majority of my adulthood, this is a lifesaver! I could not believe the change I saw after one 60 second use! It was incredible. If you are like me and have gone back and forth because of the pricing, JUST BUY IT. I wish I would have years ago because I could have avoided so much stress, hiding my face all the time, and not going to events.
It is totally worth the price, and you can see changes right away!
How Do Treatments Work?
Treatments with the Luminance RED are short and convenient. Hold the device roughly ½ inch from the area you wish to treat for 60 seconds. Peer-reviewed clinical studies, using similar light wavelengths, have demonstrated overwhelmingly positive results, with little to no observed side effects.
Learn More
Crying tears of joy! I have been dealing with lip sores for the past 12 years. It's been HORRIBLE. I've had to cancel plans, been upset that they wouldn't go away, and have felt every other negative emotion possible.
I started feeling one come on yesterday, so as always, I swallowed mountains of antiviral medicine and huge lysine pills. It helped, so don't get me wrong, but I could still tell that it was there and moreover, was SUPER painful. I have been holding off on ordering this because of the price. I wish I bough this SOOOO much sooner.
I ordered it yesterday and started using the light as soon as I got it. WITHIN TWO HOURS, both sores (yes, I had two) were 90% gone. This is after only ONE 60 second round.
If you are like me, and have been having this happen to you after years of canceled plans and embarrassments, PLEASE DO NOT HESITATE like I did. Give yourself the freedom of getting rid of these things once and for all.
Your Kids Can Use The Luminance RED Too
Many peer-reviewed clinical studies have shown light therapy to be safe and efficacious. Keep in mind, all treatments with children should be done under adult supervision. And if you have any concerns, please consult with your trusted healthcare provider.
Excellent. The Luminance wand for cold sores has changed my life. The light treatment either eliminates the cold sore or drastically reduced the time for healing. I do not know why I waited so long to purchase this product!
Our Skincare Devices are Supported by Clinical Science
We've invested in multiple clinical studies to quantify the impact of the Luminance RED family of devices.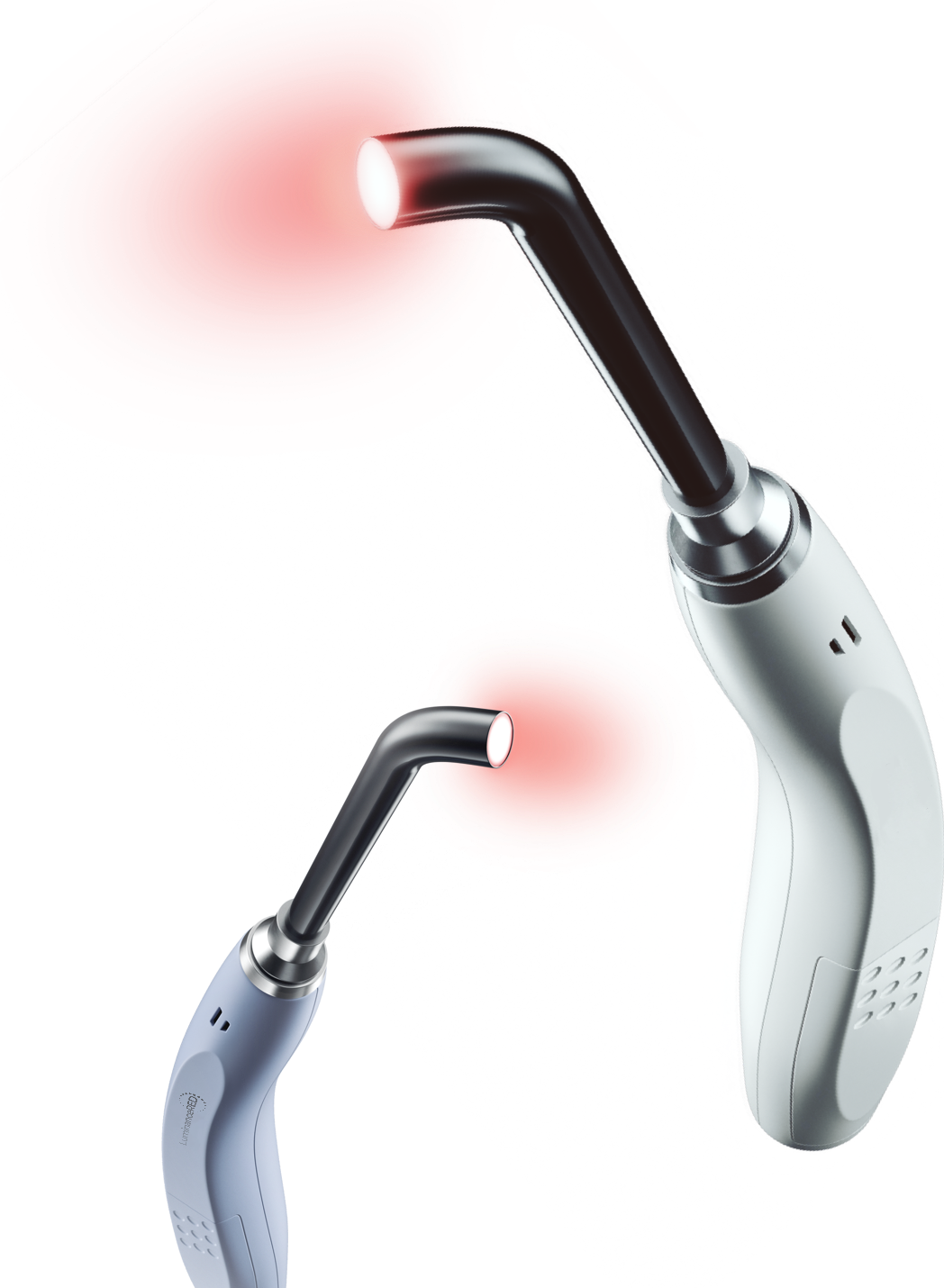 Preventative light treatments may offer benefits for some people. We suggest applying treatment 2-3 times per week to the area, on or around the lips, where frequent outbreaks occur.
Hold the tip of the device roughly ½ inch, or 1 cm, from the area you wish to treat. At this distance, the light will cover a diameter area of approximately 1 inch. If you prefer, you can also touch the tip of the device to the area you wish to treat.
Many peer-reviewed clinical studies have shown light therapy to be safe and efficacious. However, if you have any concerns about using it with children, we recommend consulting with a healthcare professional. Please also note, all treatments with children should be done under adult supervision.
As there has been no clinical research with red light therapy treatments on pregnant or nursing subjects, do not use the device if pregnant or lactating before consulting with your healthcare provider.